Portraits and Headshots
Stilwell Photography & Films is a full-service portrait studio, specializing in a variety of portraits styles and types including portraits, headshots, and personal branding. Our studio portraits are done in our Middletown, New York location. These include:
Modern Portraits
Womens Portraits
Corporate Headshots
Executive Headshots
Real Estate Headshots
Author Headshots
Actor Headshots
Musician Headshots
Medical School and Residency Headshots for ERAS Application
College Application Headshots
High School Senior Portraits
Personal Branding
Boudoir Portraits
Maternity Portraits
Motherhood (Mom and Child) Portraits
Newborn
Milestone Portraits
Children and Family Portraits
What's the Difference: Portraits vs. Headshots vs. Personal Branding
It's critical to me as a photographer to know what specifically a client needs so I can provide the proper images. There are distinctions between portraits versus headshots versus branding.
A simple way to consider the difference between these types of photos is how will it be used. Portraits are personal and tell a story, headshots are to introduce yourself, and personal branding is used to put a face to the name PLUS tell your story.
One way we see it is portraits are an artistic way to tell a story about who you are and what you want others to know about you. A portrait can include in the frame just your face and/or part of your body, or it can feature many elements including your entire body with props or scenery. There can be action and movement, it could be experimental, or it can be intimate. There are a variety of lighting styles, locations, and backgrounds that can be used, which are intentionally included to help tell the story. There can be one subject or many. There is no limit to what can be told in a portrait. In addition, portraits are best in a printed format to be enjoyed over time.
A headshot, on the other hand, is specifically used for a professional capacity to introduce yourself. It is framed to include your head and shoulders, with the emphasis on the face. Backdrops are typically neutral, and lighting is consistent. Headshots are sometimes used in print, though most of the time, they are used in a digital format for online use.
Portrait Photography
Portraits can range from the very simple to the most intricate. Critical details such as mood, style, and story are all carefully and creatively factored into what is being portrayed in the frame. What that looks like to the viewer are variations just about everything from lighting, framing, what else is included (or not included) in the picture, expression, posing, to editing, color grading, and what or how it is printed and viewed.
"Beauty begins the moment you decide to be yourself." - Coco Chanel
Anyone who knows me, knows how passionate I am about portrait photography and documenting our lives. I am especially interested in womens portraiture helping women of all ages celebrate their essence, something that is so important. What comes to mind when I think of this type of beauty portrait is empowerment, confidence, feminine, beautiful inside and out.
I always look forward to photographing women of all ages. Regardless of whether you've ever had portraits taken or not, we will work together before the session, so you have the best and most enjoyable experience. During the session, we will take our time for some pampering, and I will guide you through every step of the process.
Why a Headshot?
A headshot is a very simple type of portrait of one person. Headshots are the most important visual first impression for many professionals. There are different types of headshots, based upon what they are needed for. The first thing to consider is: who is the headshot intended for? It could be potential clients, customers, prospective employers, social media, or all of the above.
A Corporate or Executive headshot may be needed not only for a company website's "About Us" page and LinkedIn profile, but also printed literature. Resumes for business almost always include headshots in many industries. Someone who is a professional speaker or presenter may need it for signage and marketing materials. An author would need a headshot for a book jacket and other promotional material. Likewise, a real estate broker or agent may need a professional studio headshot for their signage as well as business cards and brochures. Medical students will need an application photo (ERAS) which is an important element to show who you are for your potential candidacy for residency. Almost synonymous with headshots photography, actors need current headshots to portray who they are and what they do for auditions.
Different Types of Headshots
What elements are portrayed in your headshot depends in part on what you are trying to achieve. We always coach our headshot clients during the session to imagine what you want to say to those seeing your images. Other than the obvious portrayal of professionalism, some ideas of communication include trustworthy, friendly, tough, intense, relaxed, serious, friendly, or approachable.
A business or corporate headshot should be quite straightforward, which should be well lit and smiling. It can be bright or on the slightly darker side, and most business headshots are from the shoulders up, hence the term, "headshot". Your photographer should help with posing and expression, so that your personality shines through to the viewer.
Headshots for actors and musicians can include a bit more drama, so to speak. Lighting and expression can be much moodier and more colorful, which is a feature often of stage lighting under which you would see them perform. The expression can be dramatic, comedic and full of personality, or commercial which would be a simple, easygoing pose and demeanor. Most in theater and the arts opt for all three types so they are versatile in what they can apply for and present.
In most cases, headshot photography is done in our studio. There are times when environmental factors should be included in the image. Some headshot clients prefer their own space to be portrayed in locations like their office, library, outdoors, and street or urban settings.
What is Personal Branding?
Branding can be thought of as a combination where the professionalism of headshots meets the personality of portraits. Your headshot puts your face to your name and while personal branding includes headshots, there is another storytelling layer that is introduced to align with your messaging.
Everyone knows how important it is to set yourself apart with your style and personality, and personal branding includes a much more intentional approach than a standard headshot because there is creativity in what is being shown through the setting, posing, colors, and lighting. As with all the portrait genres, connection is the end goal for personal branding just the same. Your ideal client, the viewer, needs the insight to your personality, your style, what you do, how you do it, and behind-the-scenes. Through all your images you can use within your marketing, online presence, and social media, personal branding provides a platform for your clients to get to know you better and trust your business.
Personal branding sessions are well-suited for on-location photography so I can incorporate a variety of elements into the story. It likely would include editorial images of your business setting, with and without you, as a behind-the-scenes approach that will help show the whole picture.
Personal branding photos are not just for your business. Online dating is the perfect place to feature your personality, what you like, and what makes you who you are.
The Portrait Masters - Master Accreditation
I am honored to have earned my Master Accreditation with The Portrait Masters, consistently achieving a high professional standard level for my submitted work. Humbled among fellow accredited photographers in the portrait community, I continually strive to create meaningful work that celebrates my clients' lives and legacy.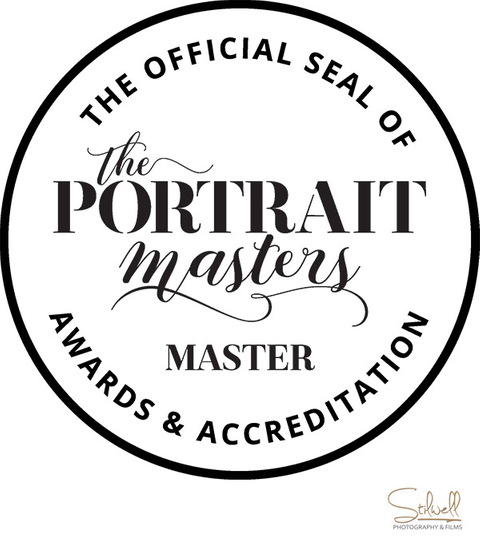 Pricing and Additional Information
If you're looking for portrait or headshot session information, call the studio at 914-443-3678. Email (alisa@alisastilwell.com) is good as well. I'd love to set up a time to chat on a call to talk through what you'd like and what I do. It's an easy process, and I'm happy to answer any questions you might have.
Give yourself the gift of now. There is no better time to exist in photographs, a timeless gift to all who love you. When you come in for a consultation we will plan and design a photo shoot that you want, what you've dreamed of. My team of a professional makeup and hair stylist will give you a full makeover of any level of glam that you want to be.
Celebrate who you are right now, whether it's for achieving a milestone, accomplishing a goal, or just because...you deserve to exist in photographs and celebrate who you are, your beautiful self.
Schedule a Consultation
We'd love to learn more about you what you're looking for. Click HERE to fill out our request form, email us at team@alisastilwell.com, or call us (914) 443-3678.
Gift Cards are Available
There is no better gift for yourself or for someone you love. Click here for Gift Card information.
Copyright © 2023 Stilwell Photography and Films | 15 James P. Kelly Way, Middletown NY 10940 | 914-443-3678