Maternity Session Information
Maternity Session Details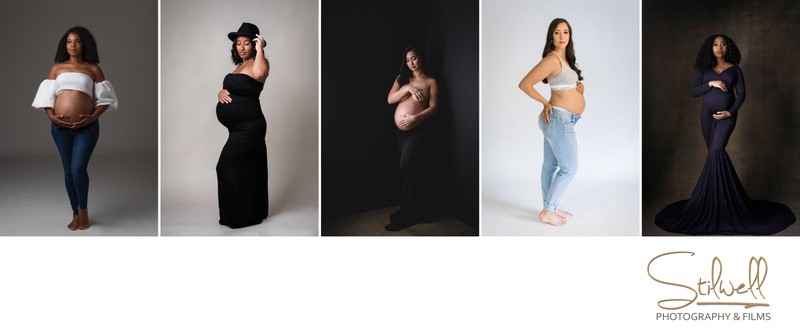 Congratulations, mama! I'm glad you're considering a maternity session to remember this special time in your life.
Just like many other aspects to pregnancy, it's easy to wonder, "How does it work?". It's easy and fun, the ultimate experience.
1. Complimentary Consultation
We'll chat via Zoom or meet up in the studio to talk about what you're interested in for your session. It's the perfect time to have all your questions answered and to start talking about ideas and plans for your photoshoot, along with print products and pricing.
2. What to Wear?
I will provide all the information you need prior to your shoot including how to prepare, what to wear, what to bring. We also offer a variety of studio outfits and fabrics that will provide wonderful variety to your portraits.
3. Makeover
About 90 minutes prior to your photo session, it's time to sit back and enjoy professional hair & makeup styling so you can look and feel your best. Our stylists are great at all the details for how you wish to wear your hair and makeup, and if you want to try something new, they'd love that, too.
4. Photo Session
It's easy -- no need to know what to do ahead of time, I will guide you every step of the way. It's important you feel comfortable and are enjoying the experience, I will take care of all the details, big and small. Your session will be about 90 minutes if it's just you, longer if you're including other family.
5. Choose and Order Your Favorites
About 2-3 weeks after your photoshoot, you'll be invited back to the studio to view and order the photos you like. We will go through all your images while you decide which you love. There is no minimum purchase required. If you're coming from a distance or can't make it to the studio in person, we can arrange for a remote session via Zoom. It's that simple!

LET'S CHAT MORE ABOUT IT
We should talk about how you would like to be photographed, what to expect for and from your maternity and reveal sessions and answer any questions you have.

Click below to choose the best time for a COMPLIMENTARY consultation. I look forward to talking with you soon!