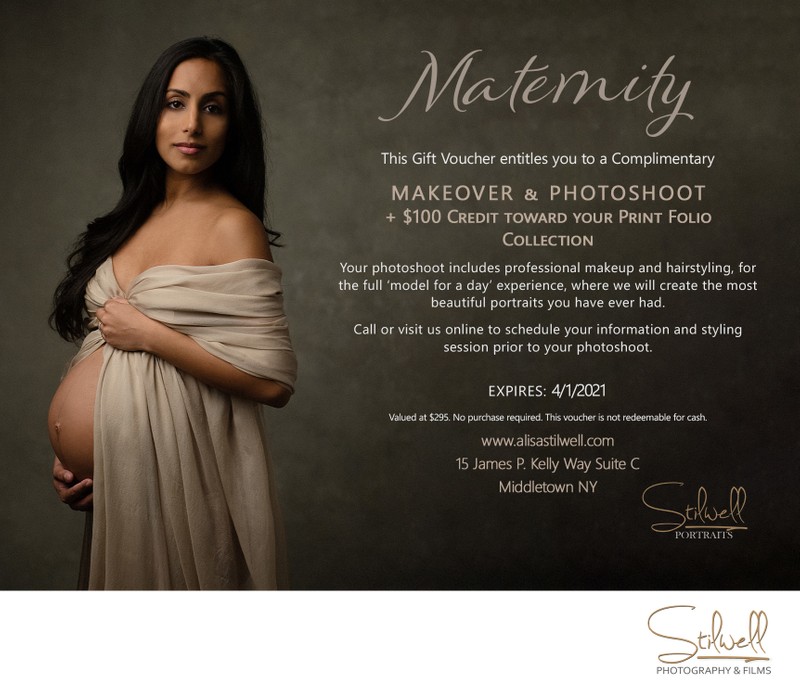 A Gift For You
Your Complimentary Maternity Photo Shoot, valued at $295, is here! This is such an amazing and special time, having it captured in portraits will help you to always cherish it.

Why?
Time flies by so quickly and pregnancy is one of these times in life that need to be celebrated and documented. You deserve to have amazing portraits that express your beauty at this time in your life, both inside and out.
Embracing the changes that your body goes through blended with the anticipation of meeting your son or daughter with pure love is what is captured in these portraits. It's a beautiful time, filled with challenges and excitement but it is very brief. It's important to celebrate these special aspects to this time in your life.
When?
The best time for your maternity session should take place between 29-35 weeks. Book your session now for that perfect time. In addition to your session, you will receive $100 credit towards any print folio collection.


Let's Talk More About It
I can't wait to talk with you about your upcoming Maternity Session.
During your consultation, we will talk about how you would like to be photographed, what to expect for and from your portrait and reveal sessions, and answer any questions you have regarding collections and pricing.

Click below to choose the best time and we can connect on an easy call. If you prefer in-person, let me know.
Our Studio is located at 15 James P. Kelly Way in Middletown.
I look forward to talking with you soon!
-Alisa
P.S. Let's talk soon though, your Complimentary Gift Voucher for your Maternity Session expires 4/1/2021. Click below to let me know when you have a few minutes to talk it through.