Westchester NY Microwedding Details
Ceremony + Dinner: Private Home, Briarcliff Manor, NY
Dress: Pronovias
Officiant: Oliver Vaquer
Photography: Stilwell Photography & Films | Alisa Stilwell
Live Stream: Stilwell Photography & Films | James Ardito
Microweddings are not new, but became a popular option for 2020. Born out of the need to still have a wedding but with pandemic restrictions, microweddings are similar to elopements. The difference is that they are not a surprise or done in secret and they have the structure of a traditional wedding only on a much smaller scale.
Oliva and Greg were planning their wedding. The original plan was the full out ceremony and reception with 200 or so of their friends and family. I was looking forward to the big party with everything included. Like everyone, they were sideswiped by the COVID factor so they had little choice but to postpone their big day for a year in hopes we'll be back to "normal". We all hope that. They really wanted to get married sooner than later, however, so a microwedding at Olivia's dad's house was the perfect solution. I was impressed with the décor and the space that would be where the ceremony would be held, it was perfect.
A Microwedding at Home
Olivia wore an elegant winter wedding dress by Pronovias that she ordered online, and Greg got dressed down the hall in his velvet suit, equally elegant. As the sole photographer, I was easily able to move back and forth between the two and still keep track of everything else. As the guests took their seats, the house was filled with anticipation of their nuptials.
Greg was smiling before he could even see his bride. Right on time, Olivia's dad walked her down a grand staircase to begin.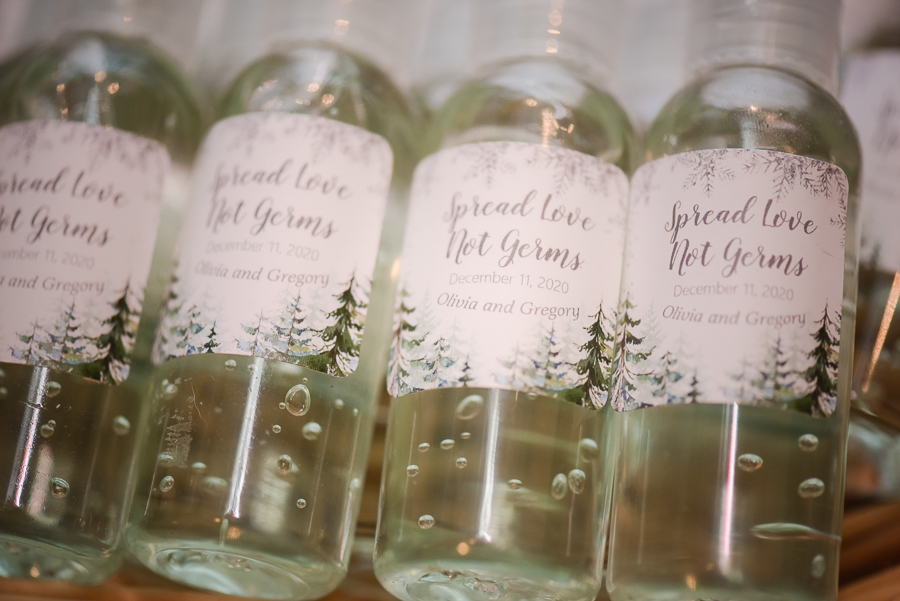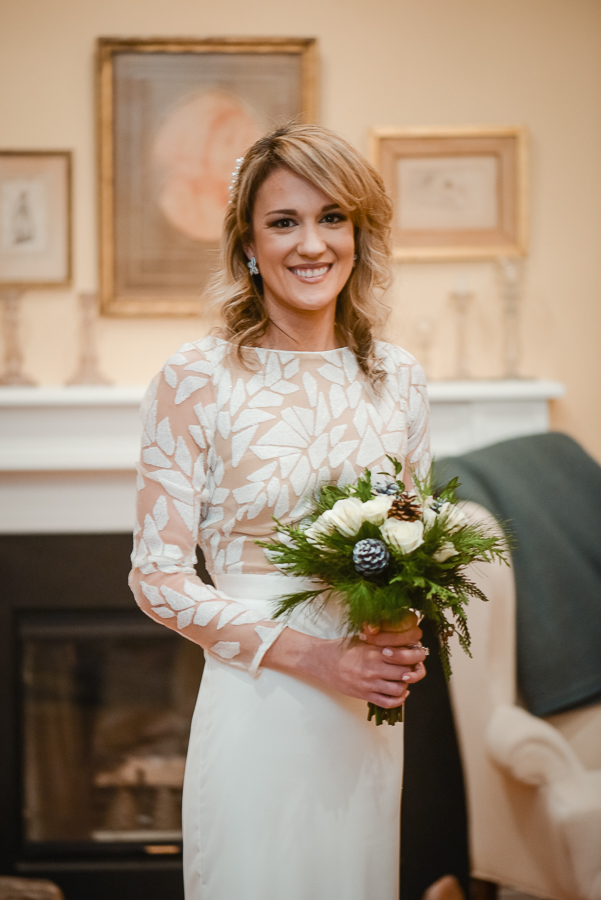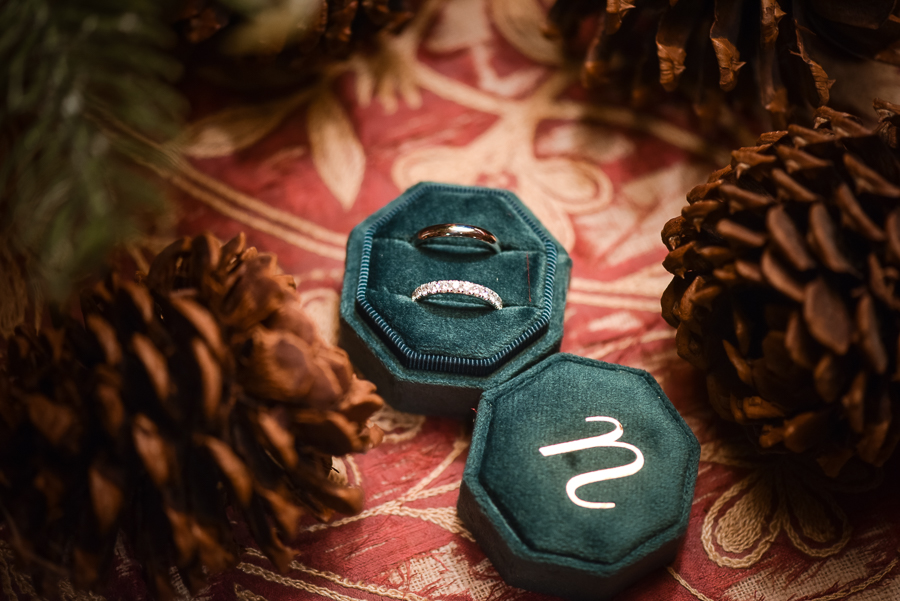 The house was beautifully decorated because it was two weeks before Christmas. Staying within the New York State 10 or under rule, Olivia and Greg had their microwedding – perfectly short and sweet, with just the essentials.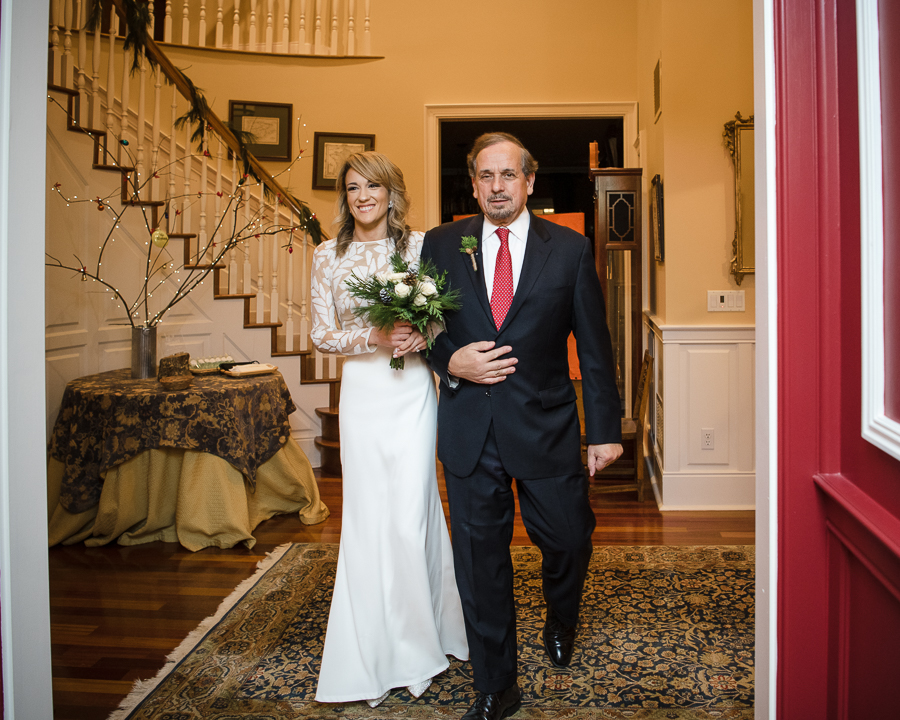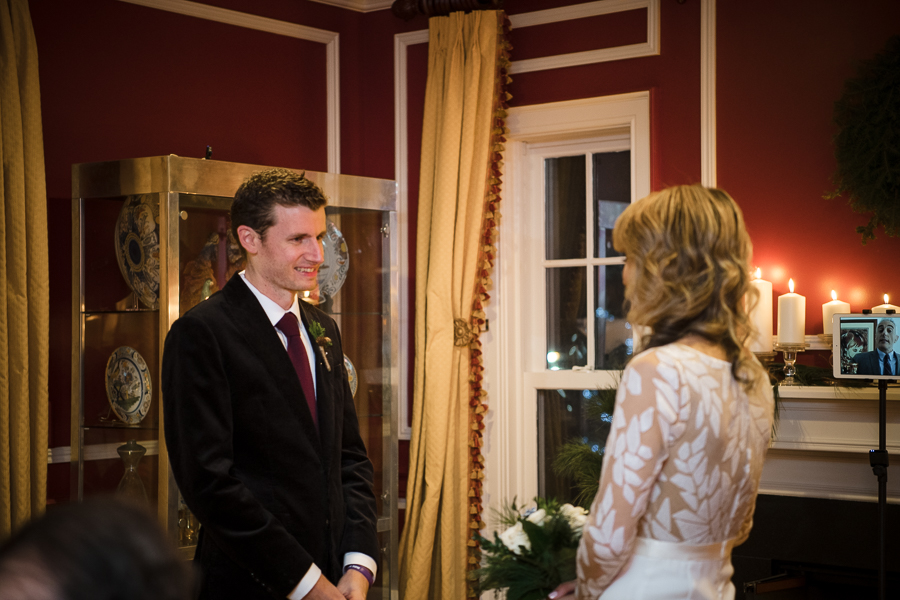 Oliver Vaquer, who is not only a well-known actor, voice actor, and podcaster, was also the officiant via an iPad. A great example of social distancing, if I've ever seen one. He did a great job, combining heartfelt sentiments with some humor among the formality of the ceremony.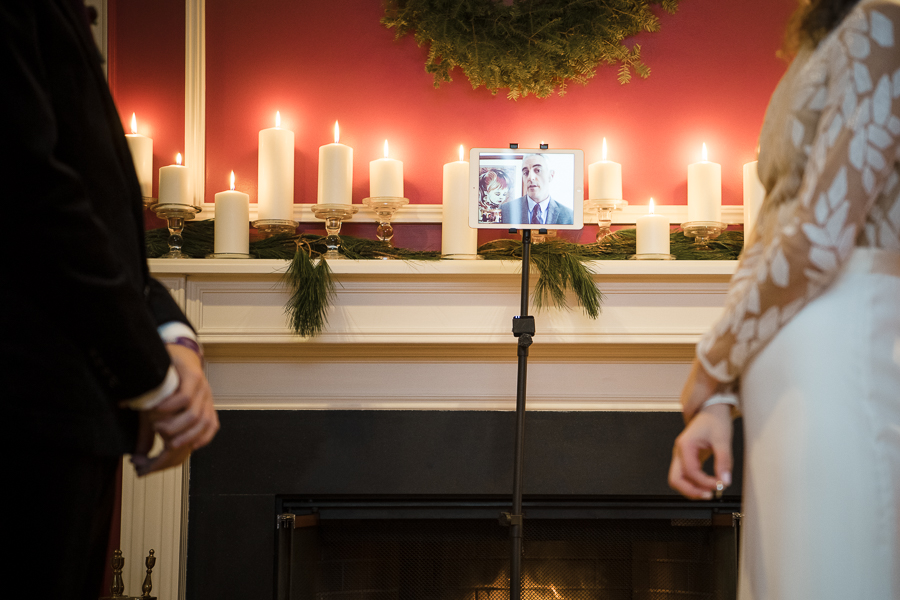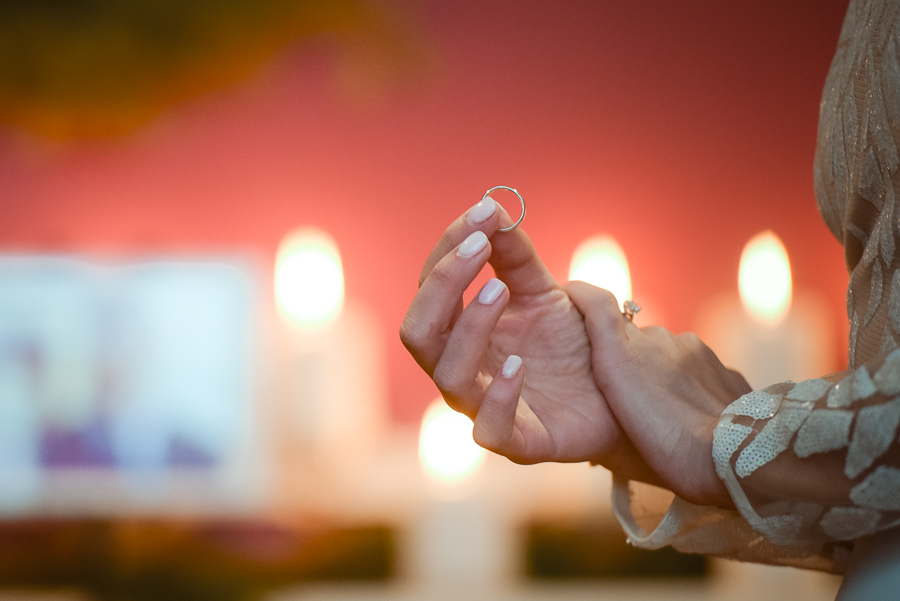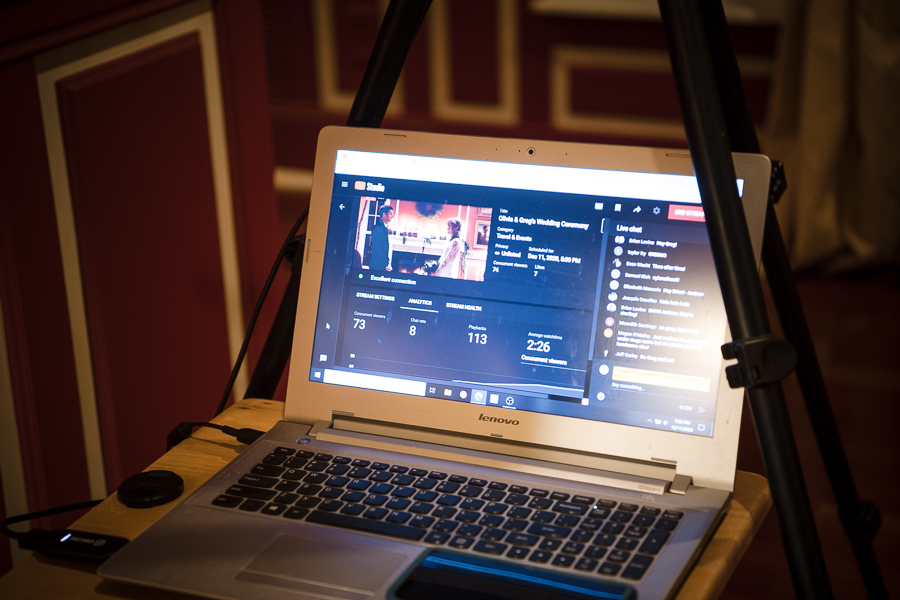 James streamed it live for all of their friends and family to watch from their home so everyone could partake in this beautiful occasion.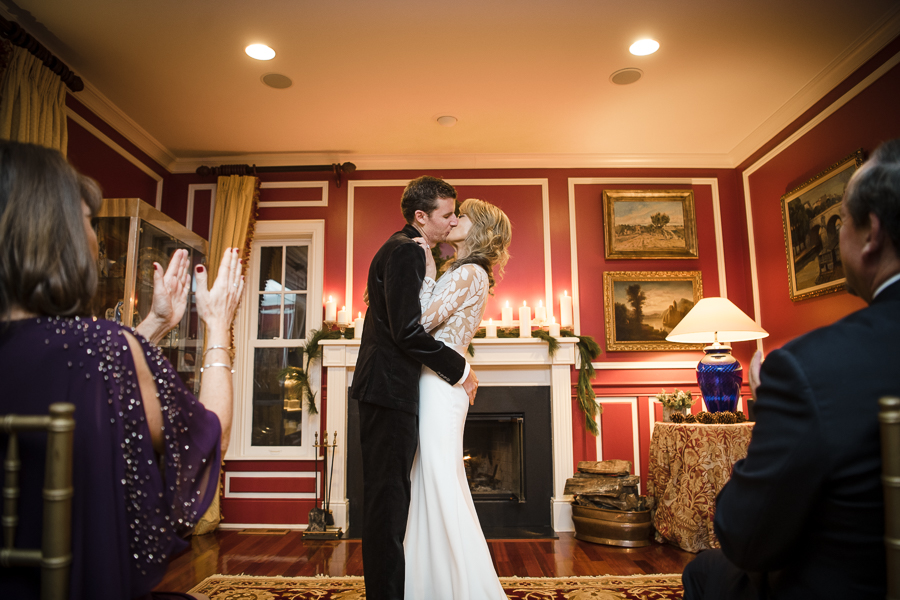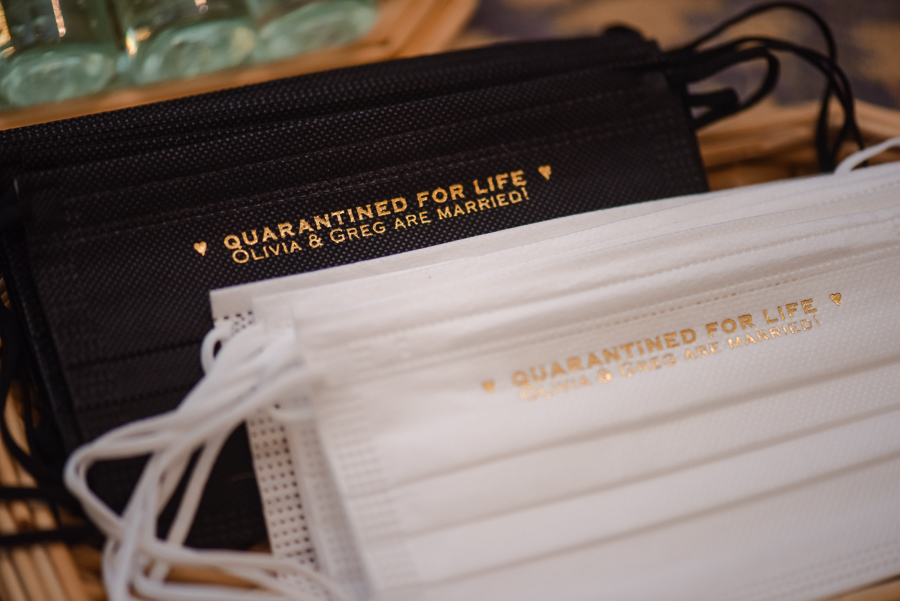 Supplies in the year of COVID microweddings include personalized hand sanitizer and face masks to keep everyone safe. A year ago, I would have thought any one insane who said we'd live through 2020 as the first year of a global pandemic with all the changes that came with it.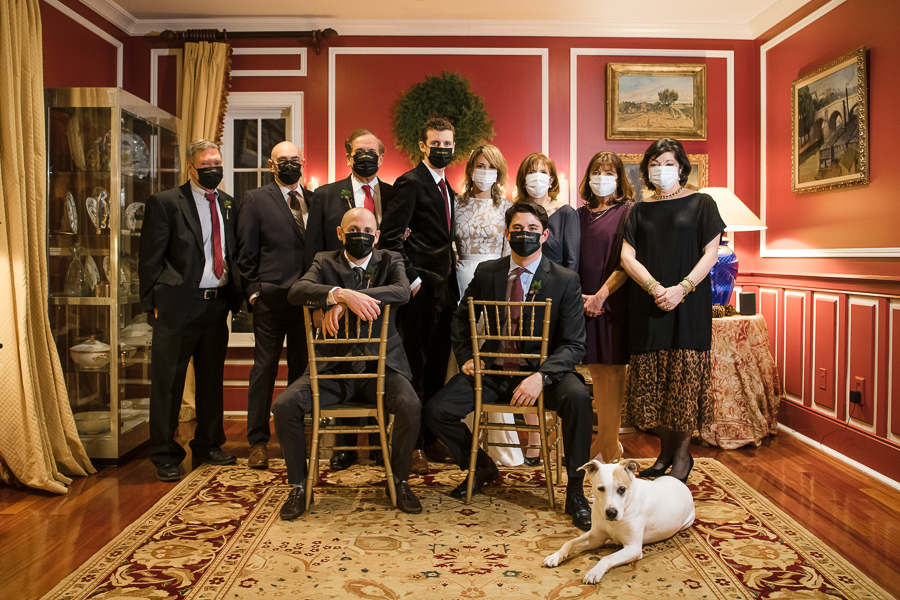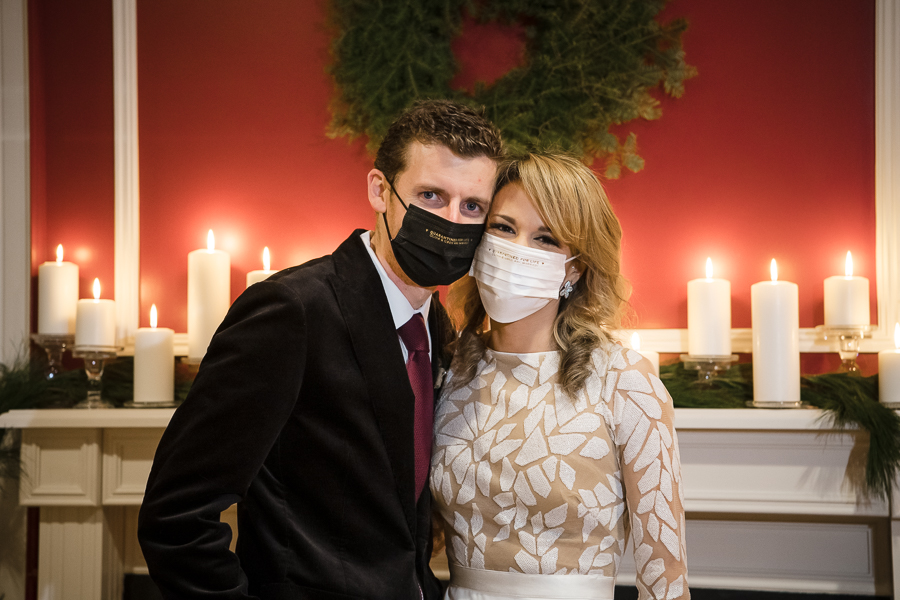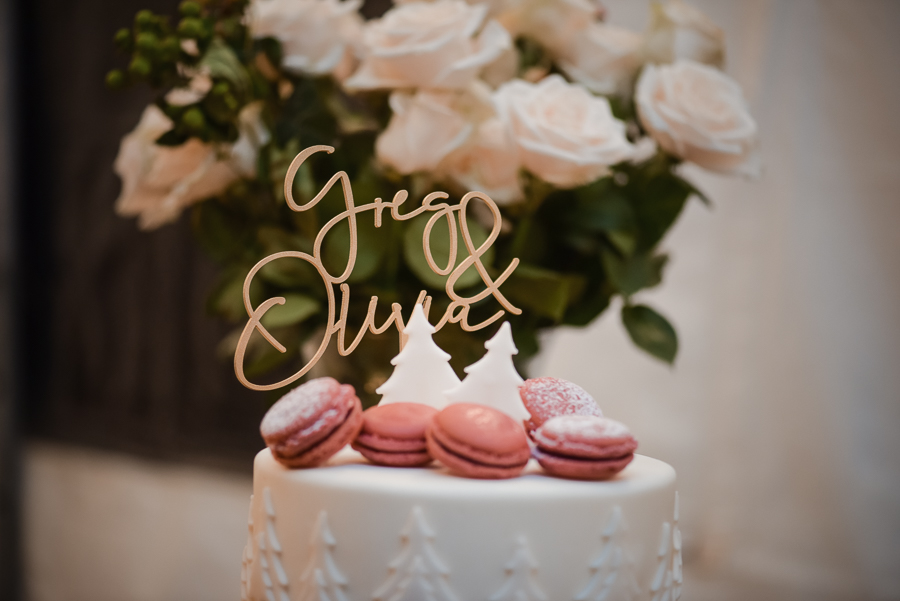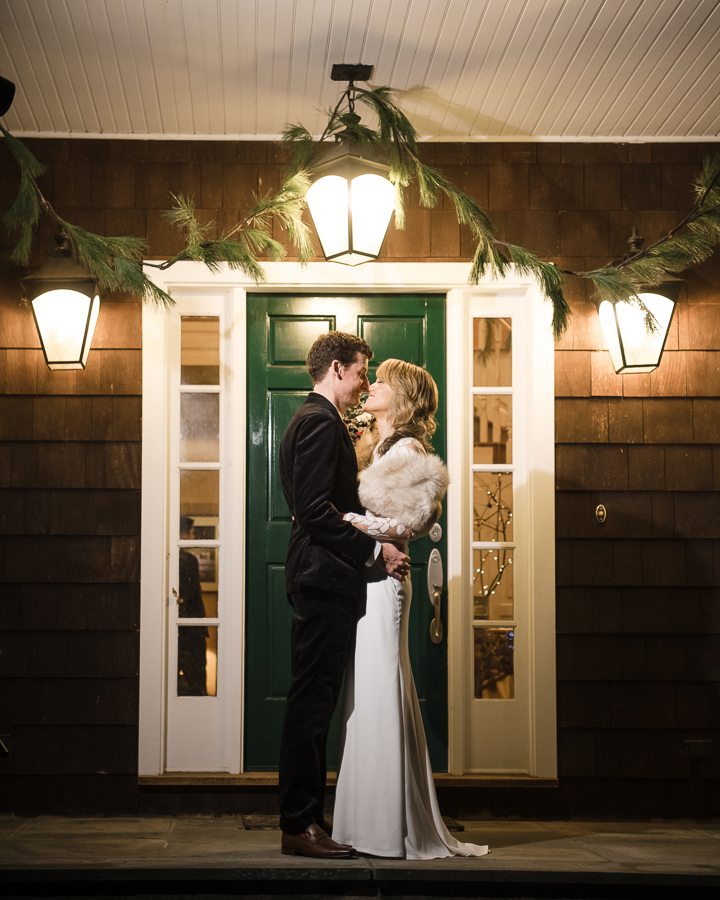 I loved watching their happiness flow as they took a few minutes to absorb the beginning of their new lives together. They may not have even felt the cold December air.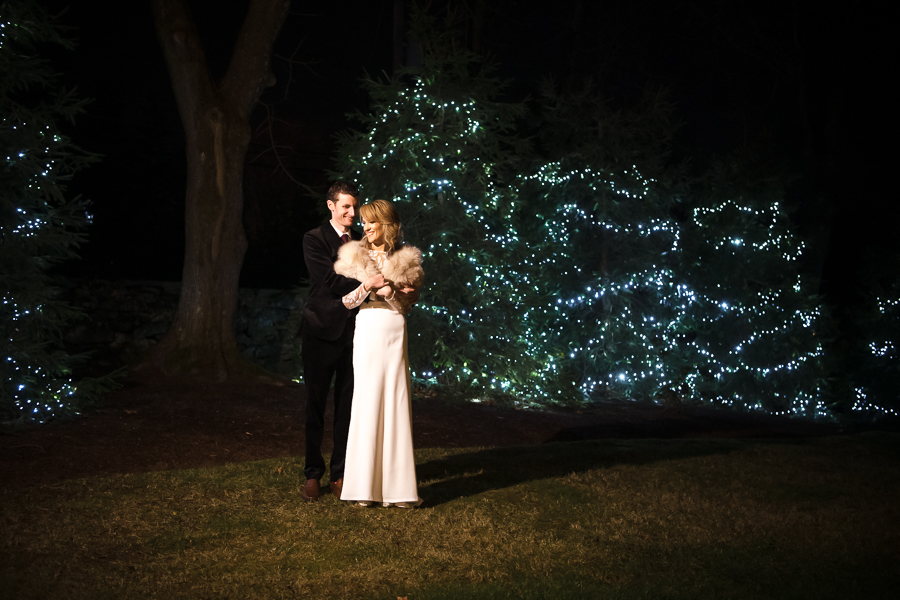 Now newlyweds, they are an amazing couple and wonderfully down to earth people. I can't wait until their next wedding, the big one, later this year. Congratulations to Olivia and Greg!
Afterthought About Microweddings
I've been accustomed to large weddings in all the years I've been photographing them. A typical day for me and my second shooter is being 10+ hours with a hundred or two guests and thousands of images from the day. My biggest surprise this year has been how much I love these small, intimate weddings. I adore spending the time with such a small group, swept up in the simplicity of it all. These connections spark me creatively and I feel closer to the event that has made such an impact in their lives.
As much as any of us, I am looking forward to days without masks, sanitizer, and social distancing. In the meantime, I am grateful to be a part of these very special microweddings, elopements, and minimonies. Even with a raging pandemic, it's an amazing consolation to see all the love that can't be contained by a nasty little virus.
Be sure to follow us on Instagram for updates and the latest wedding photography and cinematic wedding video in New York & New Jersey.