Ashley & Robert's Falkirk Estate & Country Club Wedding Video
Enjoy this cinematic wedding video filmed at Falkirk Estate & Country Club in Central Valley Wedding Video Featuring Ashley & Robert. (Highlight Film version)
The Team:
Video by: James Ardito - Stilwell Films
Photos: Alisa Stilwell - Stilwell Photography & Films
Venue: Falkirk Estate & Country Club | 206 Smith Clove Rd, Central Valley, NY
Wedding Dress: Morilee by Madeline Gardner
Ceremony Officiant: Decon John McCormack
Bridal Make-up Artist: Make up by Monique
Hair Stylist: Julie Ryan
Florist: Hudson Valley Floral⁠
Ceremony Church Location: Saint Kateri Church
Limo: US Bargain Limo
DJ: DJ Mav Entertainment
Words from the Falkirk Estate Country Club Wedding Video
Bob's wedding day note read by Ashley::
Ashley, you've made me a better person in our time together and there is not a day that goes by that I'm not thankful to have found you. You're my best friend and I'm so overjoyed for a future together as husband and wife. I'm ready to spend the rest of my life with you and I cannot wait to see how beautiful you look when you walk down the aisle. I Love You. Love, Bob.
Ashley's wedding day note read by Bob
Today I take you to be my husband and partner in my life. I promise to always be there for you, to listen and to hold your hand. I promise to do my best to always make you happy and feel loved. I promise to Stand By Your Side today and always - but mostly I promise to always be yours. Today starts the rest of our lives - let's make it a good one. I am beyond honored and proud to call you my husband and to be called Mrs. Starace. I love you so much. Meet you at the altar.
Maid of Honor's Speech
Everyone in this room can feel the unique magic that you don't see any many relationships. I've come to know Rob as someone who not only makes Ashley smile, but glow. The admiration and respect that these two have for each other is something you can only wish for your sister to find in a partner. Rob is loyal to her, he is honest to her, he respects her, spoils her, appreciates her, and makes her laugh.
Follow us on Instagram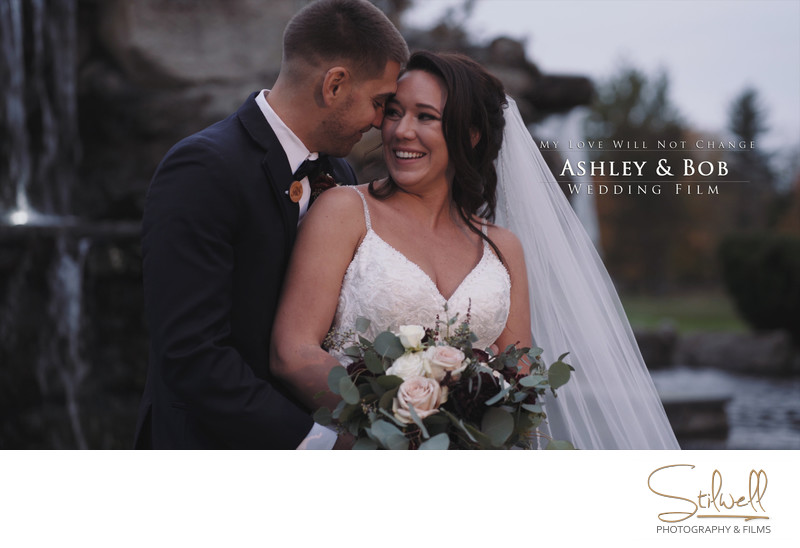 Music: My Love Will Not Change featuring Jordan Critz
- by Marie Hines, licensed by MusicBed.com
Falkirk Estate & Country Club Wedding Video, by Stillwell Photography & Films